Discover more from Artivatic Insurtech & Healthtech - AI/GenAI/SaaS Insights
information, insights, news about insurance, healthcare, ai/ml, genai articles reports and analysis for India, Middle East, South East Asia and USA markets.
Over 9,000 subscribers
Artivatic and ABSLI Collaborate to Revolutionize Insurance Industry with AI-Driven Smart Underwriting Platform- AUSIS
AUSIS Superpowrs Insurance companies for automating underwriting with risk based decision making. Enhancing STP, Reducing risk& fraud, early claims & TAT.
Introduction: In a landmark partnership, AUSIS (AI Smart Underwriting Platform), a cutting-edge insurtech product developed by Artivatic.ai, is joining forces with Aditya Birla Sun Life Insurance (ABSLI), one of India's leading life insurance providers.
This collaboration aims to leverage innovative AI technology to reshape the insurance landscape and deliver an unparalleled customer experience.
Transforming Insurance with AI-Driven Underwriting: The integration of AUSIS's AI capabilities with ABSLI's extensive industry expertise will usher in a new era of insurance innovation, focusing on the following critical aspects:
Enhanced Customer Experience: AUSIS's AI Smart Underwriting Platform will provide ABSLI customers with a seamless, personalized, and user-friendly experience. From policy purchase to claims processing, customers will receive round-the-clock support through AI-driven virtual assistants, significantly improving customer satisfaction rates and policyholder engagement.

Streamlined Operations: The partnership will enable ABSLI to leverage AUSIS's advanced automation technology to streamline operational processes, increase efficiency, and reduce costs. Claims processing, underwriting, and policy administration will be transformed, allowing ABSLI to focus on customer-centric strategies and business growth.

Precise Risk Assessment and Tailored Policies: AUSIS's AI-driven underwriting platform will empower ABSLI to evaluate risks with unprecedented accuracy and speed. By analyzing vast amounts of data, the platform can identify patterns and trends that inform underwriting decisions, resulting in tailored policies that cater to individual customer needs.

Fraud Detection and Prevention: The AI Smart Underwriting Platform will also bolster ABSLI's fraud detection capabilities. By identifying inconsistencies and anomalies in claims and customer data, AUSIS can flag potentially fraudulent activities, allowing ABSLI to mitigate risks and reduce financial losses.

Compliance and Adaptability: AUSIS's AI-driven platform ensures that ABSLI stays compliant with evolving industry regulations and standards. The platform's ability to adapt to changes in the regulatory environment will reduce the risk of fines or penalties while maintaining a strong reputation in the market.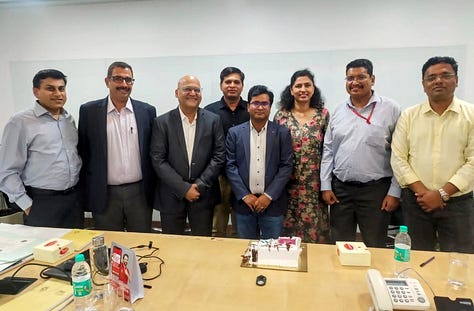 The partnership between AUSIS and ABSLI signifies a new chapter in the insurance industry, where AI-driven technology is transforming traditional processes and enhancing customer experiences. As the collaboration progresses, AUSIS's AI Smart Underwriting Platform is poised to become a game-changer for ABSLI and the broader insurance landscape.